In 2016, I was fortunate to visit Southeast Asia (and savor their delectable restaurants). After Google searching for restaurants day in and day out, one thing became clear; the #1 search result for restaurants was constantly TripAdvisor.
They are clearly doing something right.
Here's our take on what TripAdvisor nailed, and you can too.
We'll start with their content strategy, then shift to several behind-the-scenes SEO tactics.
Content Strategy for Restaurants
1. Reviews increase value. TripAdvisor always had the most reviews. Yelp may be the top dog in some places around the United States, but in Southeast Asia, TripAdvisor was king.
The best restaurants amassed hundreds of reviews, sometimes thousands. While some of them may have been fake, it's apparent that reviews are not only valuable sales pitches, but valuable content indicators.
Reviews are found in countless listings, but if you're really looking to gain traction, consider collecting reviews for Google My Business. Such reviews often display at the top of Google for local restaurants searches.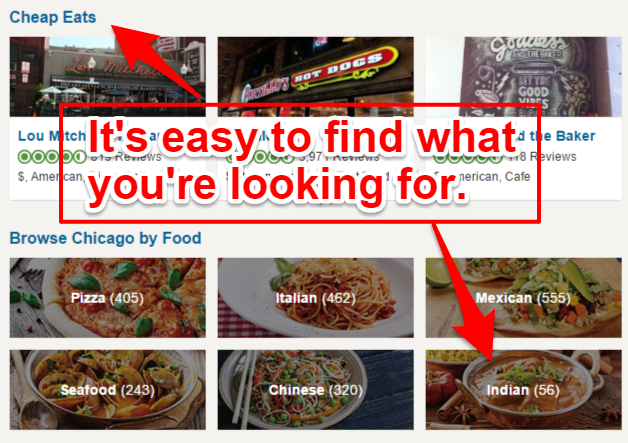 2. Their content is user friendly. When you click on TripAdvisor's Chicago restaurants page you are shown numerous categorical links that cover popular interests.
In our experience, such sub-pages offer incredible value to user experience. If you want something cheap, no problem. Looking for Indian food? Easy. Clickable images overlaid with text make it simple to find what you're looking for. And for those who just want the best of the best? Scroll down…
3. People scroll to view content. The title of the aforementioned page is "The 10 Best Chicago Restaurants 2016". This list they refer to is well below the fold. Why? Because people know that in order to find content, they need to scroll. The content presented at the top adds value to the page. Some people may want this content. But if you're really looking for that list? They know to scroll.
4. Visual content is key. Every call to action on this page has an image tied to it. This is a great way to layout content. It's eye-catching, informative, and intuitive. And let's be real — these images have me salivating on the spot. The content of this page really lends itself to a visual appeal.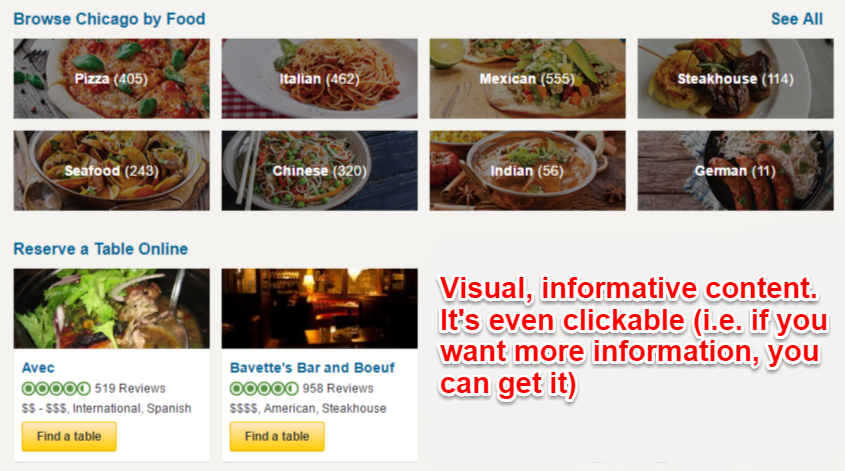 5. TripAdvisor knows their users. When viewing this page, it's clear they know how to create a broad reach. They considered every potential intention of the search "restaurants + city" and their web page reflects that wide variety of intentions. Who wouldn't be satisfied with this page? 
SEO for Restaurants
1. Their title tags are on point. The 10 Best Chicago Restaurants 2016. What's not to like? It's clickable, descriptive, has 3 important keywords (restaurants, Chicago, best), and even includes a this-page-is-up-to-date indicator — 2016.
2. Their domain is valuable. It's important to create quality content across the board. It builds your brand and reputation. TripAdvisor has a high domain authority — meaning it's an influential website.
When websites become an authority for certain keywords, they tend to rank better across the board for that keyword.
3. Site statistics impact rankings. Neil Patel outlined this concept in an idea that has been coined "dwell time." He describes dwell time as "a metric that calculates user engagement". What this means, essentially, is the longer your audience engages with your site, the better. The more pages they view, the better.
This doesn't mean write longer pages without substance. It means create content of great value. Add links that aid your explanation. Use images that play to human visual tendencies.
Think about your target keywords, and do the best job you can to satisfy every possible intent of that search.
And last but not least, keep making good food! Yum and thank you.