Each of these platforms are perfectly suitable for SEO — I'm here to tell you what's more important: quality content and links.
Search engine optimization (SEO) is largely based on factors outside of your platform.
For example, links have little to do with your platform but are imperative to ranking for keywords.
With that being said, each platform has its own distinctions, which we'll cover here.
But rest assured, WordPress, Squarespace and Wix are all suitable to SEO and keyword rankings.
What is search engine optimization (SEO)?
SEO is the process of ranking for keywords and driving traffic through search engines. Good SEO typically requires keyword research, content marketing, and link building.
How do you rank for keywords?
In broad terms, ranking for keywords typically requires 3 things…
Optimized title tags
Title tags appear in search results and tell search engines what your page is about.
Include relevant keywords to help people find your content in the search engine results page (SERP).
Quality content
Google wants people to come back to Google. Their success hinges on their ability to rank content based on how well it satisfies a user's search intent.
By helping users find valuable content, those users happily return.
In order to rank, you need to create quality content that answers a searcher's question or intent.
You're up against hundreds of thousands (if not millions!) of other websites looking to drive traffic. Creating quality content sets you apart.
Links
Links pointing to your website demonstrate a vote of confidence.
Building links boost keyword rankings, particularly links from popular domains. For example, a link from the Huffington Post offers a greater reward than a link from a brand new website.
It's like getting a letter of recommendation from a reputable source vs. someone you don't know.
Now, let's take a look at each platform.
Title Tags
Implementing title tags with keywords is an important step in driving search engine traffic.
Here's how to implement title tags in each platform.
WordPress
In WordPress you enter title tags within the pages section. Click on the page you want to edit, and input your title tag as shown in the box below.
If you want to get fancy, download an SEO plugin — Yoast or All in One SEO — they may have an alternative location to enter your title tag.
Wix
To enter title tags in Wix, open your page settings by clicking on the three dots next to a page. Enter your tag as shown below.
Squarespace
Click pages. Then click on the gear icon next to the page whose title tag you'd like to edit. Click the SEO tab. Then edit the "SEO Title" pictured below.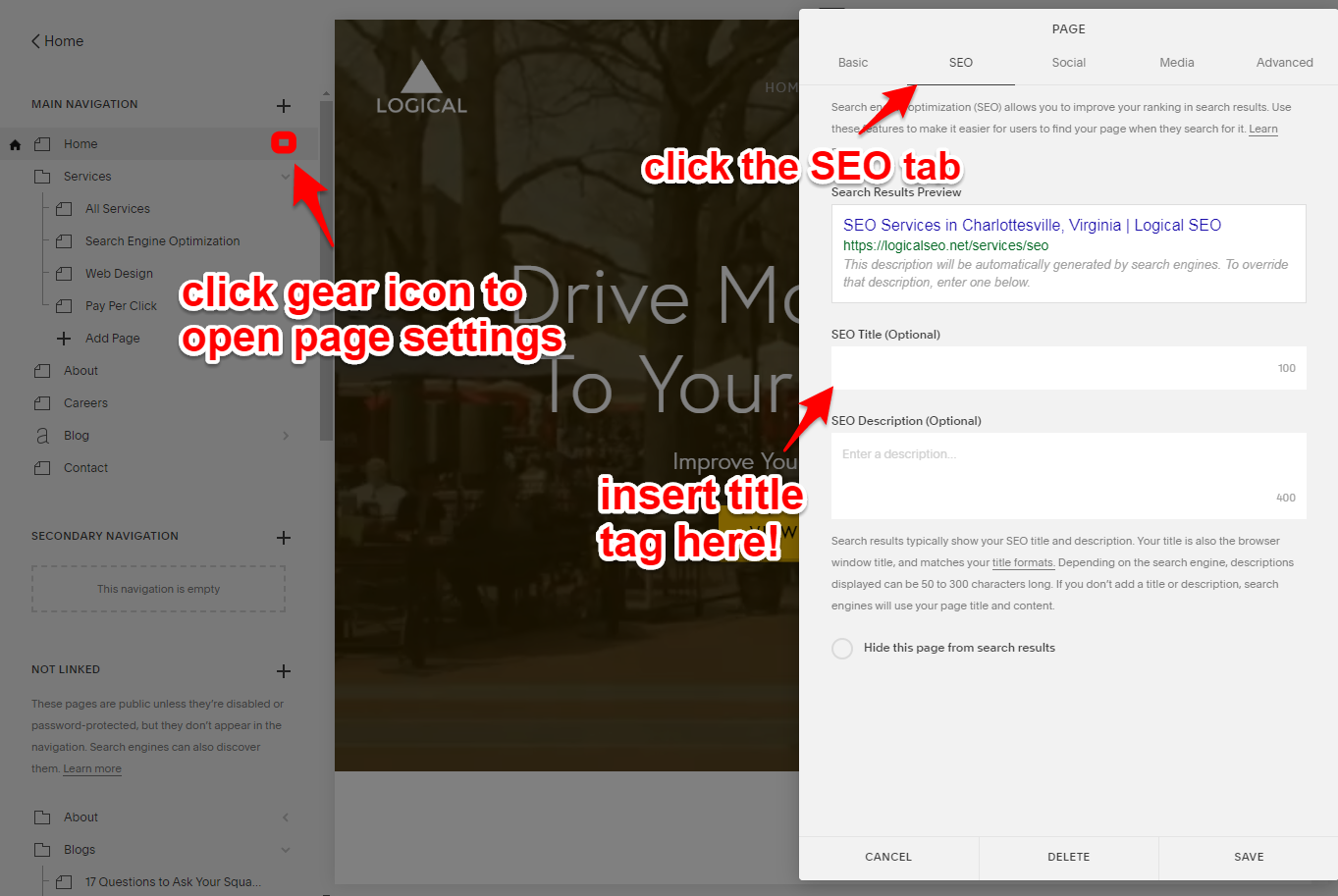 Quality Content
Quality content satisfies the search intent (i.e. what the searcher is looking for).
All 3 platforms allow you to create quality content. How you create it, well, that varies a little.
How each platform handles content
Squarespace and Wix are drag-and-drop platforms which make them simple options for new webmasters.
Some WordPress themes are drag-and-drop, however, in general, the platform is likely too complex for those new to web design and development.
The upside of WordPress, however, is that it is more customizable than Squarespace or Wix. For people or companies who can hire out their marketing, WordPress has an edge in its ability to support companies once they grow.
But your basic text, images, videos, links, forms, maps, and even some level of custom coding in Squarespace and Wix is available. They both make great options for getting started.
How to drive traffic with quality content 
Put yourself in the mind of the user who searched a keyword. What are they looking for?
If you can adequately answer that question, you'll be a step ahead of the competition.
Other content tips
Browse web pages that rank for your keyword. What's their content about? How did they answer the keyword's search intent?
Target low-competition (longtail) keywords to increase your chances of ranking and driving traffic.
Use any or all of the following

Concise language
Short paragraphs
Plenty of headers (to help people scan)
Images
Building links
Link building is essentially unrelated to your platform. To garner links, you need to convince other webmasters to link to your site.
When you get an inbound link, you'll get a vote of confidence from that website which Google will eventually find and measure.
Which platform should you pick?
If you're familiar with any one of these platforms already, consider sticking with that platform — you'll save time.
If this is your first website endeavor, I'd recommend Squarespace or Wix. You'll save startup time which you can put towards content marketing or keyword research.
If you want a website that's fully customizable, go with WordPress.
How long will it take to learn your platform?
WordPress
Some say WordPress is easy — I would take that with a grain of salt. WordPress has quite the learning curve, and if you're not tech-savvy you will spend plenty of time learning the platform.
Squarespace
Squarespace's main menu has 5 to 7 sections. Mine currently has 7.
Within each section you'll find plenty of options but if you ever get lost you can always come back here.
Squarespace also has 24/7 chat assistance.
Within the page editor you can drag and drop text, images, videos, buttons, and many other so-called "blocks."
For someone new to website development, Squarespace is a great option to shorten the learning curve, and dive into content.
Wix
Similar to Squarespace, Wix has drag-and-drop features that allow you to move content easily.
Wix's mobile editor? Same thing. Click and drag content to where it needs to be.
In terms of a learning curve, Wix and Squarespace are comparable.
Which platform suits you?
Each of the three platforms will suit the vast majority of new websites.
They all support text, images, videos, buttons, and many other options.
If your site requires complex content, you may need WordPress.
With Squarespace and Wix your options are a slightly more restricted. But unless your site requires something out of the ordinary, Squarespace and Wix are suitable for most everything.
Conclusion
Search engines handle platforms and rankings in similar ways. They read content, search for inbound links, and use keyword data to deliver the best results they can.
Each platform is perfectly suitable for content, title tags, and links (which have more SEO-value than the platform itself). When you choose a platform, consider its learning curve and its suitability to your needs.
Happy website editing — and good luck!